The logo of any brand or company is not just a mixture of letters, shapes, and colors. Instead, it is a statement that helps others to recognize your business with a glance. A logo can consist of a whole brand story or motto in it.
In fact, 60% of consumers avoid brands that have unattractive logos. An attractive and meaningful logo can support all your marketing and sale efforts even if you are new to the market or you playing in a competitive niche.
As a new business owner, it can be difficult for you to hire a professional logo designer or website template designer. If you have little or no design experience, creating the perfect logo can seem like an impossible task.
If this sounds like you, don't worry. This article will walk you through the best logo makers, as well as some affordable options if you have a little more room on your budget.
Why is a professional logo important for your brand?
When it comes to your brand, first impressions count. And the quality of your logo ultimately determines the first impression you make. A well-designed logo can build trust and authority with your customers. On the other hand, a bad logo can lead customers to choose your competitor.
The impact of a poor-quality logo can be amplified through different channels, e.g. social media, web, and print if the colors or design are wrong.
You may have the best product or service in your industry, but an amateurish-looking logo can put people off-trying your brand.
The other way around, it can be a well-designed company logo:
Catch the attention of potential customers. As the attention span of humans has gone shorter, a great logo can grab attention and quickly communicate your brand values.

Make them recognizable as logos can become your brand identity. They can set you apart from the competition and help people remember your business on any channel. It is said that customers need to see your logo 5 to 7 times before it is remembered.

Build customer loyalty. A meaningful and professional logo can help you build trust with people prior to their interaction with your brand.
While a logo for your products and services is not enough, it serves as a reminder for those who have had good experiences with your brand.
Logo design tips
There are also some important design rules to remember before delving into these logo makers.
Keep it simple. A simple logo design allows for easy recognition and makes the logo versatile and memorable. Effective logos present something unexpected or unique without going over the top.

Make it memorable. The principle of simplicity closely follows the principle of memorability. An effective logo design needs to be memorable and this is achieved with a simple but appropriate logo. Experiment with your brand colors to find the perfect color combination to make your logo stand out.

Design to last. An effective logo should stand the test of time.

The logo must be future-proof, i.e. H. it needs to represent your value proposition five to ten years from now.

Make it versatile. An effective logo must work across a variety of media and applications.
Few Top Online Free Logo Makers
Designing an attractive and unique logo with some meaningful intent in it can be challenging. Hiring a professional graphic designer to get this job done can be expensive for new entrepreneurs. And if you want to make it on your own, you don't know where to start.
Hence, to provide your brand with the best logo without being heavy on the pocket, we have compiled a list of free online logo makers. These logo makers or generators can help you design your brand's logo according to its nature, as they have thousands of templates available in every niche.
Hatchful by Shopify

Canva

Free Logo Design

Logo Maker by Ucraft

Squarespace

Looka
01. Hatchful by Shopify
Shopify is a dedicated platform for e-commerce. It is supporting businesses to grow by providing them with specialized and optimized stores for selling their products. Along with these services Shopify has now launched "Hatchful". It is a mobile application available across Android and IOS app stores that can make attractive, high-quality, and meaningful logos for your businesses.
Hatchful has a user base of over 140,000+ business owners. This app contains thousands of logo templates for every business niche. You just have to answer a few questions regarding your business and this app will suggest logos from the database. It has AI working behind it to extract your intent for designing the logo for your business.
Here are a few advantages of using "Hatchful" mentioned:
Cost & Time Effective. This logo maker is available for free, so you can create incredible logos for your brands within no time for free.
Template Rich. It has hundreds of attractive and distinguishing logo templates designed by professionals.
High-Quality Output. Your logo is your brand identity; hence it should be of high quality. You can download the logo in JPG format to use it on your social media handlers, e.g. Facebook, Instagram, Twitter, YouTube, etc.
Built-in Design Studio. You can edit layouts, add icons, customize colors, and much more to build a unique logo.
Tailored for Your Niche. Hatchful has dozens of templates for every niche, you can tailor the logos according to your industry. Moreover, you can provide this tool with your brand values and let it do the rest.
Pros
High-res, web-ready logo files for free

Many languages supported

Creative logo templates

Unlimited edits and file downloads
Cons
Logo customization options are limited

No way to get print-friendly vector files
Pricing
Hatchful is free for all, no matter if you are selling on Shopify or not. It has a mixture of paid and free templates within the app. It will ask you to pay if you want to download a little more professional version, otherwise the normal business logo templates are available for free. Overall, it's a handy tool if you're looking to create a DIY logo for free, and create something unforgettable that represents your brand.
02. Canva
Canva is probably the handiest logo maker on the list and can be great for beginners. Canva pro invite link also has a fairly intuitive design process that makes it easy to get started. The templates are divided into niches, e.g. B. Badges, Art/Design, Fashion, Sport, Food & Drink Car, and more.
Some of the logos in this creator are clever and fun, but you have to edit them yourself. Canva's design tool makes it really easy, plus it comes with a ton of helpful articles to help you when you get stuck.
Once your design is ready, you can download a high-resolution logo for free and use it however you want.
If you've used Canva for other design work before, you'll be fine to catch up quickly. It has become an incredibly popular logo-making tool for a reason.
| | |
| --- | --- |
| Pros | Cons |
| Even a Non-Designer Can Become a Designer Using Canva | Canva Style |
| Canva is Very Simple to Use and User-Friendly | Limitation on the Number of Templates |
| Canva Provides Social Media Templates | Alignment Concerns |
| Canva is Budget-Friendly | Export Settings are Limited |
Pricing
Freemium
03. Free Logo Design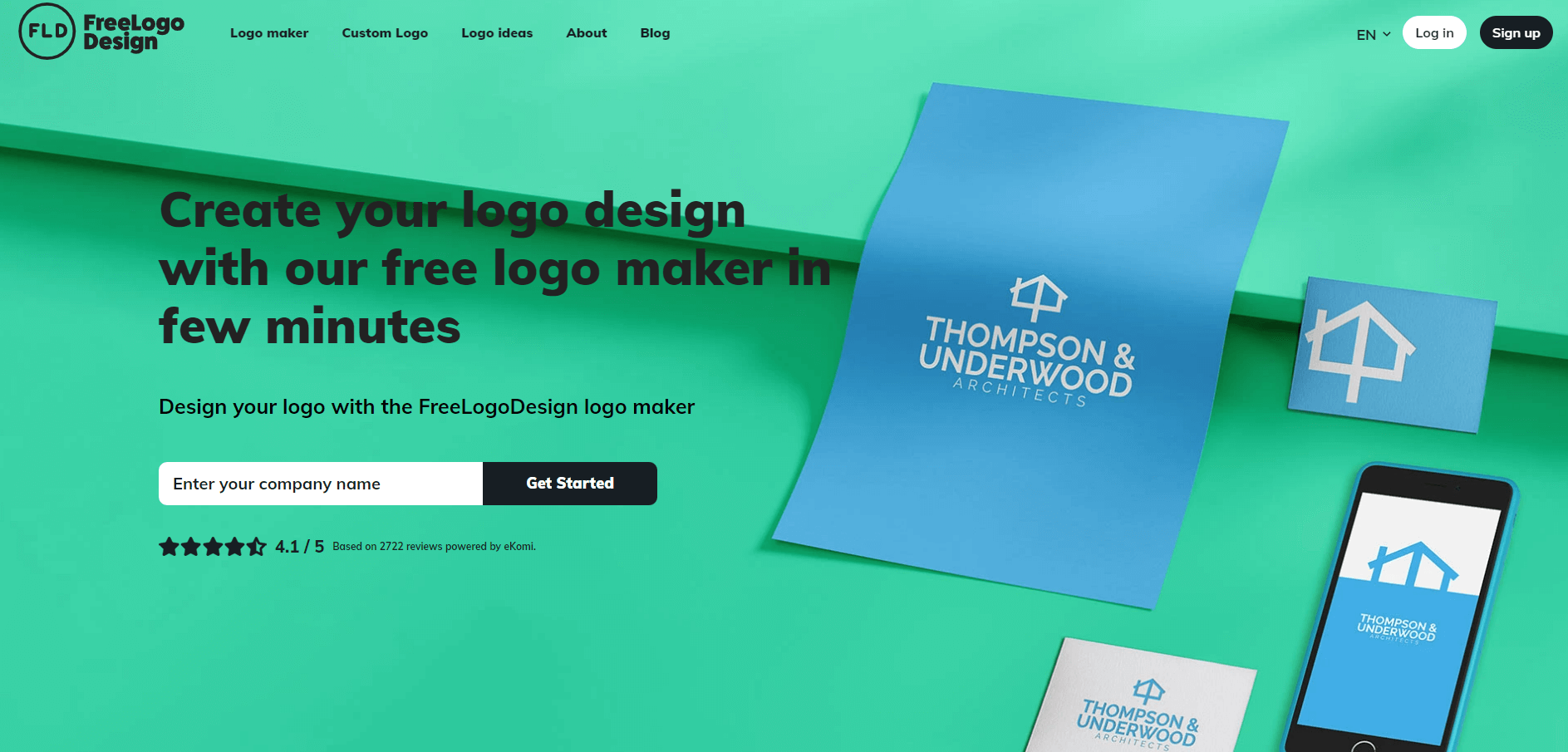 FreeLogoDesign
is a logo maker created in 2016. Since then, more than 2 million entrepreneurs have used this tool to create their logos and brand image. And as its name suggest, they offer the possibility of creating and downloading a logo for free (low-resolution). They also have different package options for high-resolution files and add-ons, such as brand guides, business cards, and email signature templates.
What makes FreeLogoDesign stand out from the others is its large quantity of logo templates; indeed, they have more than 2000 available templates for you to use. They add some every month and they were created by their team of professional graphic designers. Their logo maker is also friendly to use; once you have chosen a template you like, you can add, move, or change components like the fonts, colors, texts, by clicking on them.
It is also possible to hire FreeLogoDesign's team to create a custom logo for you. Since their graphic designers create many logo templates every month, they can make something that meets your needs in a few days.
Pros
Great number of logo templates available
Flexible and easy to use logo maker
Possibility to create a free logo (PNG)
Different packages and add-ons available
Cons
You need to pay to access high-resolution files
Other users can use the same logo templates or icons
FreeLogoDesign Pricing
FreeLogoDesign offers various plans:
0$: Get a 200 x 200 free PNG version of your logo with a white or colored background
$39: High Resolution Package - Get high resolution and vector files of your logo (PNG, JPG, PDF, SVG)
$59: Premium Package - Get all the resolution and vector files and add-ons available (brand guide, social media files, business card templates, email signature, etc.)
04. Logo Generator by Ucraft
Ucraft is another platform that can help you in the creation of professional logos for free with just a few clicks.
You will find plenty of fonts, shapes, icons, and colors for mapping a logo from the root. Moreover, you can also download the final form of the logo in a PNG, SVG, or ESP format.

Having a logo in PNG format with transparent background can be used anywhere. Plus, the PNG format provides high-resolution logos.
| | |
| --- | --- |
| Pros | Cons |
| Free Plan | Not as easy to use as fully drag-and-drop based website builder alternatives |
| Responsive with customization options | Very standardized, not the best for sites with complex requirements |
| Collaborative access to the site editor | No built-in photo editing |
| Features beautiful, customizable website templates | Limited functionality in comparison with competitors |
| Lovely customer support | Glitches may arise |
Pricing
Ucraft provides free web hosting by Google which is already included in your subscription fees.
05. Squarespace
Squarespace website builder platform also has a great free logo maker that free and paid users can use to create high-quality logos from scratch. While they don't have as many options as some of the other options listed above, their logo maker gives you enough to start creating your logo.
You need to sign up for a free account, however, you can download their logo which is up to 5000 px. When using Squarespace for your website, can help to keep all of your assets and your brand under one roof. With the logo editor, you can also easily see how your logo will look on business cards, your website, and even on clothes.
Pros
Templates & Layout, Squarespace offers over 140 rich themes optimized for tablets and phones. They seem to strive for the perfection of every little detail in their designs; Fonts, sizes, images - everything fits. Their templates are also highly customizable via the design menu.

Blogging Feature, if you want a blog to be one of the core elements of your website, Squarespace is a great option. You have feature-rich commenting, multi-author functionality, the ability to schedule posts, AMP support, you name it. Nice touch: you can even host your podcast on Squarespace!
Cons
Website Editor Usability, there are a few aspects of usability that I'd like to see improved: Instead of prompting you to save your work after each change, it should just auto-save and offer a site-wide undo button (or site history feature) instead.

Page Speed, your templates get bad marks in Google's page speed tool, resulting in a poor user experience on smartphones and possibly affecting your search engine ranking.

One sub-navigation only, Squarespace is not suitable for larger websites that require a deep menu hierarchy. This also makes it almost impossible to build multilingual websites
Squarespace Pricing
$16

Personal

(A good solution if you don't need an online store. All plans include up to 1000 pages)

$23

Business

(Adds marketing features like Pop-Ups and the Announcement Bar. Online store with a transaction fee of 3%)

$27

Online Store (Basic)

Sell online with a free transaction.

$49

Online Store (Advanced)

Everything included: Use advanced ecommerce features with Squarespace
06. Looka
Looka is a solid free logo maker choice that comes with a fun and user-friendly design. This logo maker can provide you with high-definition logos as it saves your file in JPEG and PNG formats. Moreover, for better scalability and convenience, it can also store logos in vector forms like SVG and ESP.
Looka provides you with hundreds of templates to ease the design process. You can alter or change multiple elements like; shape, color, icons, and symbols in the suggested templates. However, you can also build a logo using extensive elements from scratch. After the completion of the logo design, you can use it anywhere from social media accounts to website banners. Additionally, you can also make post-purchase updates in the final design.
Looka is a versatile platform that provides services beyond logo design. You can make social media posts, Email signatures, business card designs, letterheads, and much more. Although, this is a paid add-on that goes for $96/year billed annually or $196/year if you want to use these features.
Pros
High-Resolution Logo

Automatic customization

Ease of Use

It is super easy to use and does not require prior design experience.

It provides high-resolution files with multiple downloadable file options.

It also provides your logo on every social media platform with unlimited downloads.

It provides many color customization options with a variety of fonts, icons, and sizing options.
Cons
3D logo designing is absent.

Provides the same icons to all the users.

Requires a paid subscription.

There are chances that other users might use the same templates that you choose.

Hiring a professional designer will yield better results
The pricing of Looka
Looka comes with two paid options for its users, the first one is a one-time purchase ranging from $20-$80, and the second is a yearly subscription which comes from around $96/year to $196/year.
07. Visme
Visme is an easy-to-use visual content creation and collaboration platform. With Visme, you can create professional-looking logos in minutes. Visme includes a drag-and-drop editor and a library of hundreds of templates, photos, and animated characters.
Visme's logo creator not only allows you to design and download your logo but store your new brand fonts, colors and logo in the dashboard to access for future designs, from brand guidelines to marketing graphics. Visme's icon library has thousands of options available for any industry your business might be in. This makes it easy to create a logo design with both text and visuals that are hyper-relevant to your industry. Customize each color within the icons and text to represent your new brand.
Combining simplicity with flexibility, Visme allows you to create engaging visual content.
Paid plans include advanced features like Google Analytics integration, brand kit, and privacy controls.
Pros
Easy drag-and-drop design tools, made with the non-designer in mind

Customizable Icons

Large library of fonts and stunning color palettes.

Stunning, professionally designed logo templates to choose from

Download as a high-resolution image to use on your website and in graphics
Cons
More expensive than other SAAS platforms

The search feature needs improvements

Limited variety of animated content
The pricing of Visme
The free basic plan that comes with most templates.

Personal plan for design professionals at $29 per month.

Business plan for SMBs at $59 per month.
Enterprise plan for corporations. You will have to contact the Visme sales team to learn about the pricing for this plan.
Logomakerr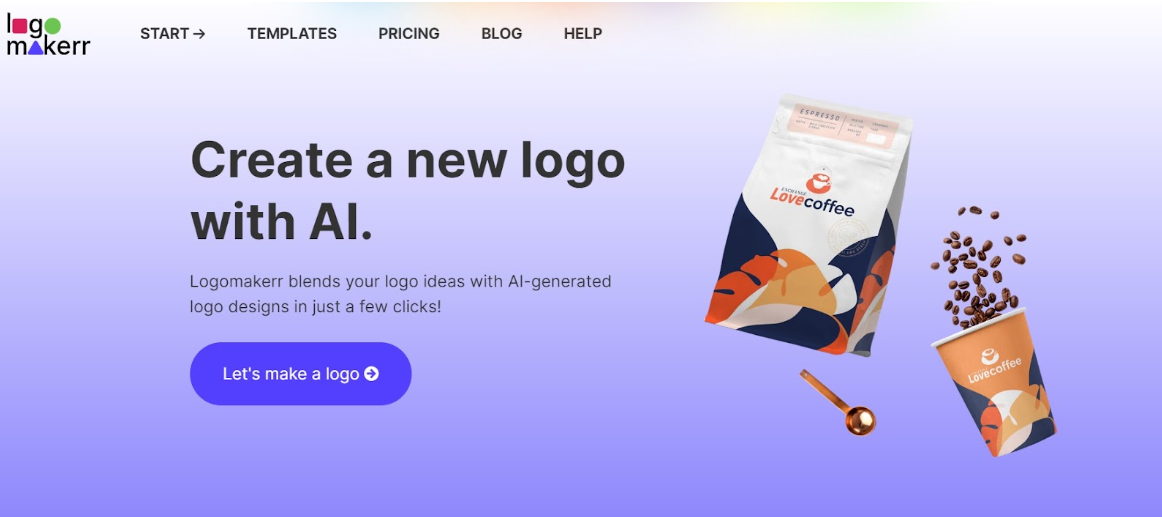 Logomakerr.ai (formerly known as Instant Logo Design) is another Ai-powered logo maker with an easy-to-use interface and superb customer service!
Unlike other logo generator websites, Logomakerr.ai stands on its own. You'll be asked the necessary questions to generate a template matching your style and preferences.
The best part is a customization option where you can change the layout, colors, font styles, and logo icons. You can even download them in various file formats and mockups for your marketing needs.
But in any case, if you really want a professional designer to help you with your design needs, they have an in-house designer that will help you create a logo design of your dreams!
From $29 to $99, you'll have a full-packed branding package!
Pros:
Friendly and simple interface
Customization options (layout, icons/symbols, font, colors)
Hundreds of marketing mockups are available
Available in different file formats (both digital and for physical type)
Free logo-making process
Cons:
You cannot manually edit every design element like other software.
There's a chance that you'll have few similarities with other brands
No photo-editing option, so you cannot add your images.
Pricing:
Logomakerr.ai offers three pricing plans with different features and benefits.
Basic - $29
Pro - $59
Brand - $99
Meanwhile, an additional $49 is required if you'll ask for an in-house designer to specifically design your logo based on your needs and preferences.
Designhill Logo Maker
tool. Its easy-to-use, intuitive interface and exclusive library of design elements, such
as templates, icons, fonts, and colors, empower you to effortlessly create a logo that is
unique and impactful.
Distinct Advantages of Designhill Logo Maker That Set It Apart
User-Friendly Interface: Developed with novice designers in mind, Designhill Logo
Maker is equally beneficial for pro logo designers, offering a seamless and interactive
interface that makes the logo design process enjoyable and seamless.
Accessibility for All: Regardless of the technical or graphic design skills, anyone can
seamlessly use this leading platform to create a logo that aligns with the brand's vision
and mission, requiring only a touch of creativity. At the same time, this tool takes care
of the rest.
Cost-Effective: Designhill Logo Creator lets you craft logos for free, with minimal
charges incurred only when you download your logo design files, making this
platform the most budget-friendly option.
Extensive Design Library: With an exclusive library of pre-created templates, icons,
fonts, and layouts, Designhill Logo Maker offers countless options to craft a unique
brand identity. In addition, this platform provides you with numerous ingenious
graphic design tools that make it a complete solution for all visual design needs,
including email signatures, digital business cards, custom t-shirts, and more.
Pros and Cons:
Pros:
User-Friendly Interface: Designhill comes with a user-friendly interface suitable for non-
designers and novices.
Affordable: Designing a logo with Designhill Logo Generator is incredibly cheaper than
other DIY tools.
Time-Saving: The AI algorithms help Designhill generate logo concepts swiftly,
streamlining the design process.
High-resolution Vectors Files: You get high-resolution, ready-to-use vector files for your
final logo in SVG, EPS, PNG, and JPEG formats.
Print-ready Designs: The platform provides print-ready files for printed and digital versions.
You don't need to make extra effort for the adjustment.
Full Ownership: You get the complete copyright and ownership of your logo design files. It
gives you the flexibility to use it wherever you want.
Cons:
No App: This platform has no app, so you need to create logos online, necessitating you to
have access to the internet during the entire design process.
No Free Vector Files: You can't get high-resolution logo files under Free or Basic plans.
You need to subscribe to the Premium or Enterprise package for vector files.
Pricing
Designhill Logo Maker offers flexible pricing plans, including free and paid options. The
paid packages unlock additional features, such as high-resolution downloads, vector files, and
full ownership rights. The pricing is affordable and cheaper than almost all other logo
makers. The three packages with varied features and prices are — Basic, Premium, and
Enterprise.
AI 3D Logo Maker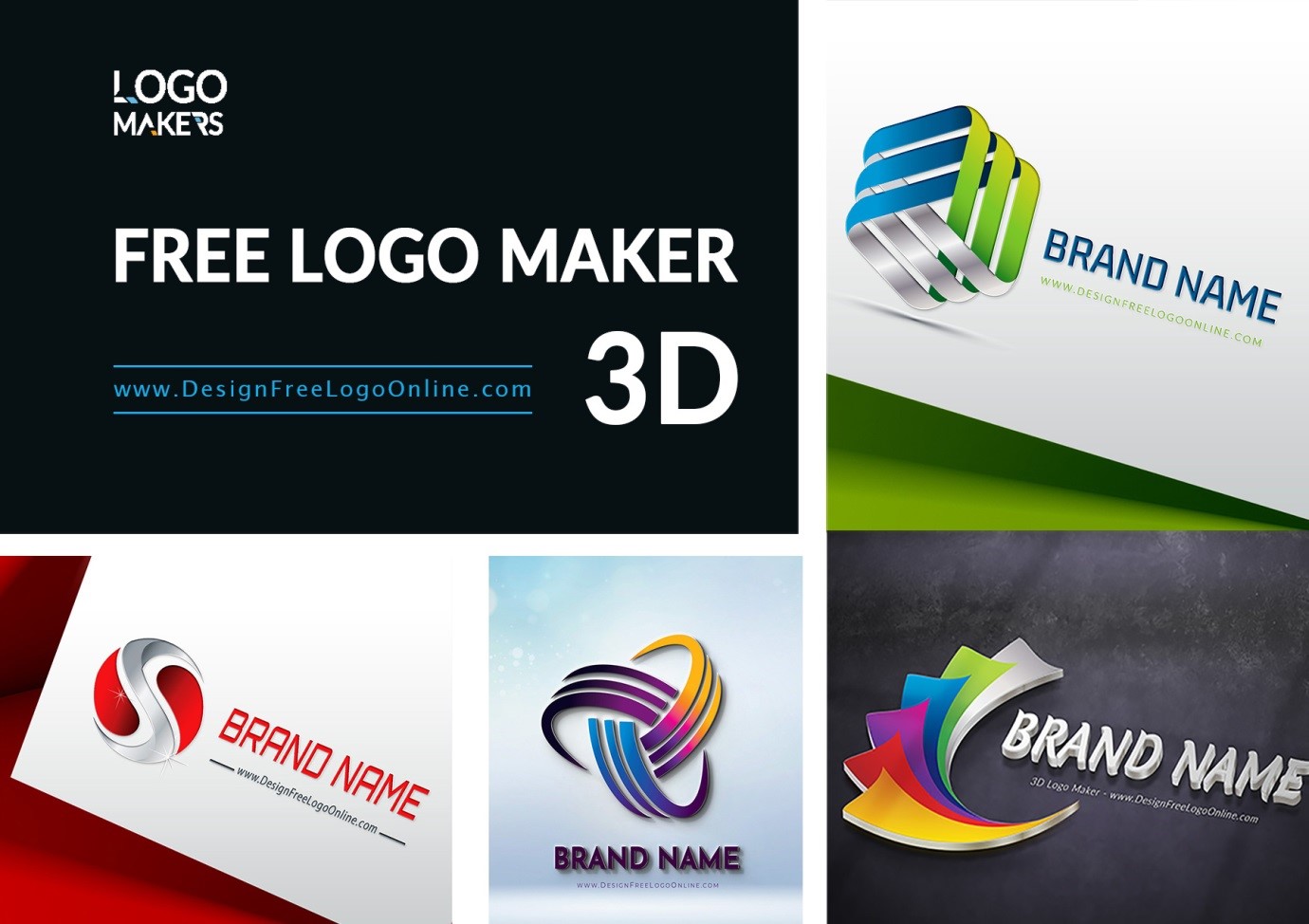 As one of the leading websites for creating logos in 3D, The DesignFreeLogoOnline uses AI technology to generate innovative 3D logos based on the information you provide.
To use this tool, you just need to open the official website and select a 3D template from the library. After that, you can use the
3D Logo Maker
tool to generate your logo instantly, choose fonts, change colors, and customize the name. The AI tool allows users to download an unlimited number of free samples and place an order when they are satisfied with a
logo design
. You will also get many templates, which you can customize to come up with an awesome logo.
And if a need to personalize your new logo further arises, you can upload your images or icons, get the HD editable logo file package, and edit your new logo in Adobe Illustrator. From here, you can add your icons, images, and graphics or change the fonts and colors.
Pricing
DesignFreeLogoOnline offers a basic logo package, which offers medium-resolution logo files editable on the website. It will cost you $29 and allows the download of Transparent PNG files. The HD Logo Package will cost you $79 and allows the download of transparent PNG and vector and
Download SVG files
in high resolution. Finally, the Platinum package will cost you $119 and allows the download of animated logo videos, an additional 3D mockup, vector files including SVG, black and white versions, as well as transparent PNG in high resolution.
Pros
Modern 3D effects
Supports high-resolution PNG files and SVG file format
Offers three separate pricing packages
Generates many logo combinations with few clicks
You can transfer your new logo to your small business website or social media platform
Supports many languages
Cons
Limited icon selection
No custom made designer assistance
Frequently Asked Questions
What is the best free logo maker available online?
For beginners and early designers "Looka" is the best logo maker due to its versatility and ease of use.
What are the best available AI logo makers?
Shopify logo maker (Hatchful) and Tailor brand logo makers are the best when it comes to logo generators with integrated artificial intelligence.
What are some points to remember when creating a quality logo?
Follow the KISS principle while making any logo. Keep it simple, appropriate to your business, and timeless. Logos are meant to drag a long run.
Conclusion
A logo is designed to emerge the mission and vision of a brand or organization. It is a link between your brand and your audience like a seal of trust. Hence, a logo is more than a symbol or name. For keeping your brand fresh in customers' minds, it is necessary to work hard on your logo theme.
Include logo designing in your in-pocket expenses while starting any entrepreneurial idea because logos cannot be changed instantly. Your brand visuals are important, it takes time to map your brand in your customer's mind, and changing the logo can ruin it. Whereas using an online logo maker can save you money and effort.
Therefore, to help you find the perfect identity for your brand, we've put together a list of the best free online logo makers to make sure your brand's identity is memorable and different from the competition.
Hatchful by Shopify

Canva

Logo Maker by Ucraft

Squarespace

Looka