If link-building is like your local newspaper running a story about you, B2B link-building is like trying to get national coverage in a trade publication.
Keeping the analogy, B2B link-building is exponentially harder.
You'll need specific tactics and strategies to get those valuable mentions – and you're on the right page for that.
This article gives you:
7 actionable strategies for B2B link-building
SEO tools to achieve your goals
Practical examples
Let's begin.
1. Writing for Your Potential Link Partners
There are two main mistakes B2B businesses make when it comes to link-building:
Reaching out to experts in their field with a mediocre link-building request
Producing content that targets only their potential customers
First case: You have nothing to offer to your potential link partners.
These authoritative websites are looking for mutually beneficial partnerships, meaning:
A link towards a valuable tool or resource: These content creators you want to get links from are interested in innovative tools, unique perspectives, and insightful industry studies with statistics they can't find anywhere else.
A link to another website with high domain authority (DA): However, most new websites have low DAs.
Pro tip: You can use this free Domain Authority checker to see where you stand.
Let's use it for namecheap.com – insert the website's URL in the search bar and click on "check authority:"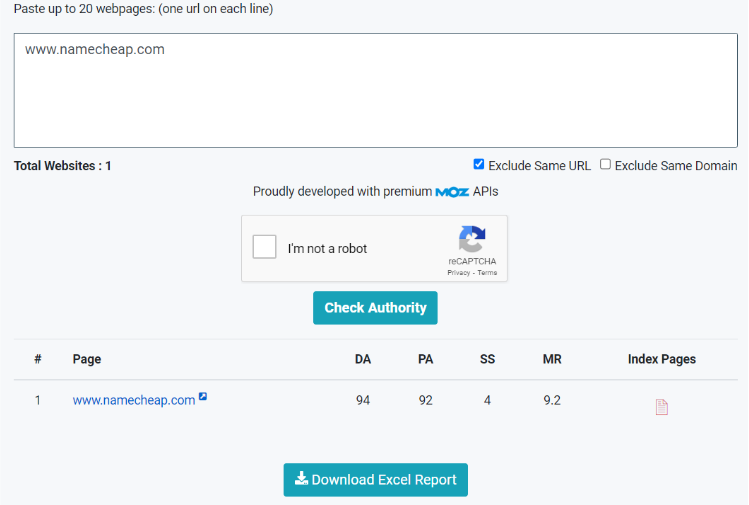 Second case: You only create content for your potential customers.
We're not arguing against educating your B2B prospects.
Your B2B target audience comprises decision-makers in your industry. Therefore, they need more research and clear data before purchasing your products.
Here's the problem:
Your B2B buyers will not link to your resources. Even if you produce high-quality, relevant content – some will maybe only share it on social media.
But that is not link-building.
Here's the solution:
Include information that interests your potential link partners and which they'll want to link to.
Now that you understand the overall situation let's see how you can implement it:
How to Write for Potential Link Partners
Find authoritative websites in your niche.
For that, you can use:
Google
Your industry knowledge
An industry magazine
An SEO tool
BuzzSumo is an excellent SEO tool to try. You can use it to discover trending topics in your niche and who's writing them.
You can also use BuzzSumo for keyword research.
For example, add "email marketing" to the keyword search engine, and you can discover top influencers and authors who discuss this topic.

You can also click on the "Influencers" tab to find relevant creators in your niche.
Shortlist and analyze the websites you want to get links from.
Look at the topics they're talking about, their interests, and their needs.
Find missing opportunities and turn them into topics.
Let's say you're selling ergonomic office furniture.
You notice that there is no study in your industry comparing the effects of different such furniture on employee productivity.
You ask your virtual assistant to interview your existing customers about this topic, jotting down in an Excel file variables such as:

Employee satisfaction
Physical comfort levels
Productivity metrics, such as the number of completed tasks or time spent on a task
Physical health indicators
Absenteeism and turnover

After completing the Excel file, analyze the numbers and write your conclusions in a statistic-based study.
Wait for the backlinks or pitch your guide.
You can be more proactive at first and send outreach messages to the potential link partners you've found in point 1.
But, if your industry study is indeed unique, the mentions will follow when people search for ergonomic office furniture statistics.
Pro tip: You can replicate the same strategy with many resources, such as free calculators, case studies, etc.
2. Guest Posting
Guest posting is essential in the B2B space because you want to prove your authority.
However, you can't just rely on your blog to build your expertise – your target audience might be reading something else entirely.
Besides, third-party endorsement from reputable websites in your niche consolidates that expertise.
There are two problems we'll teach you how to solve in this section:
Finding relevant websites in your niche to publish your articles
Finding enough relevant topics without running out of ideas or copying your old ones
1. Finding Relevant Guest Posting Opportunities
You can find relevant guest posting sites list by using:
Google Search
Look for a generic and informational keyword in your niche.
Don't look for transactional keywords that will lead you to your direct competitors.
Make a list with 20 opportunities and then move on to another target keyword.
Good search formulas include:
[keyword] blogs to follow
Best [keyword] blogs
Best [keyword] posts [current year]
Here's what that looks like if you're selling office furniture: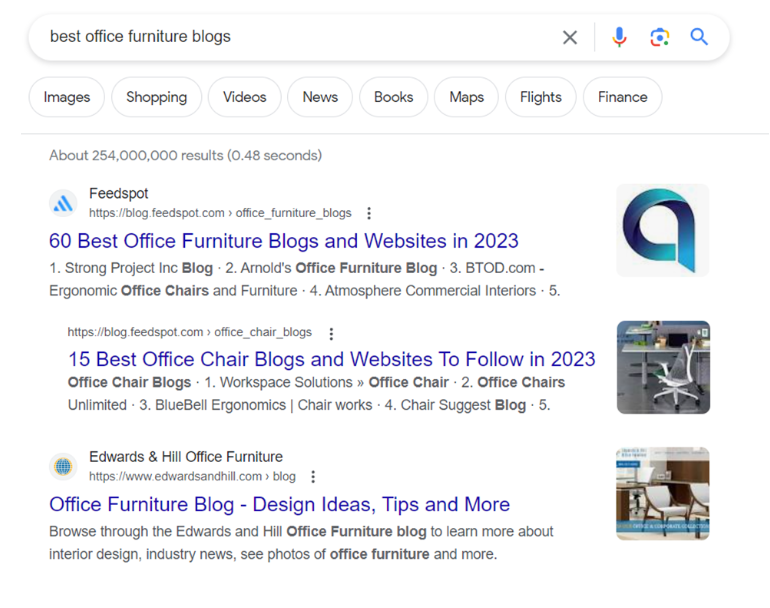 Look at who's linking to your competitors.
SEMrush and Ahrefs are great tools for analyzing your competitors' backlink profiles.
Look at their content and determine what topics earned them backlinks and who linked to them.
Chances are the same creators will mention your tools and content if you come up with unique perspectives.
In Ahrefs:
Choose one competitor.
Go to Content Explorer.
Choose "Pages" and then "Best by Links."
Set the HTTP code to "200 ok" to reveal the articles with the most backlinks.
Go to "More" and choose "Link Intersect."
Copy-paste the first few pages.
Pro tip: Remove "https" from your rival's website URL and use the "prefix" setting for better results.
Click on "Show link opportunities."
Repeat with another few articles and then with a different competitor.
Here's what you'll see:
The referring domains are websites that link to your competitors. If you click on the number of backlinks, you'll see more details about those inbound links.
To study one of your rivals in more depth, use Ahrefs Site Explorer.
Pro tip: Filter the results by choosing the type of links you want to see (do-follow or no-follow), page traffic, language, or backlink type.
Let's say your main direct competitor is Datadog. Here's the brand's backlink profile: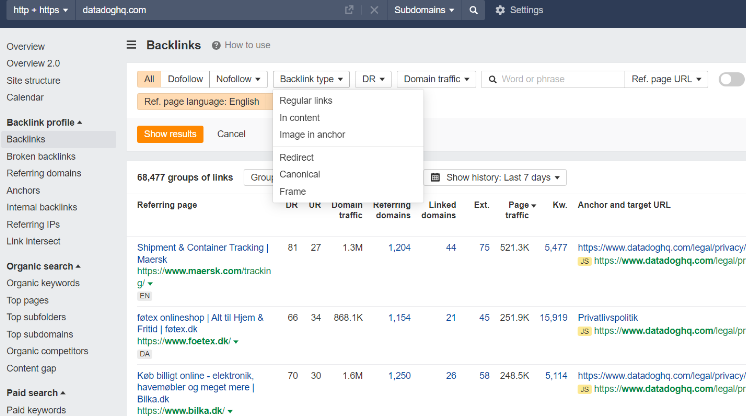 Seeing these details will help you pick the right websites to reach out to, as well as the right topics.
That brings us to:
2. Finding Enough Relevant Topics
There are a few ways to never run out of interesting topics in your B2B industry.
Use Google.
Enter your seed keyword in Google.
Check the "People also ask" and "Related searches" sections.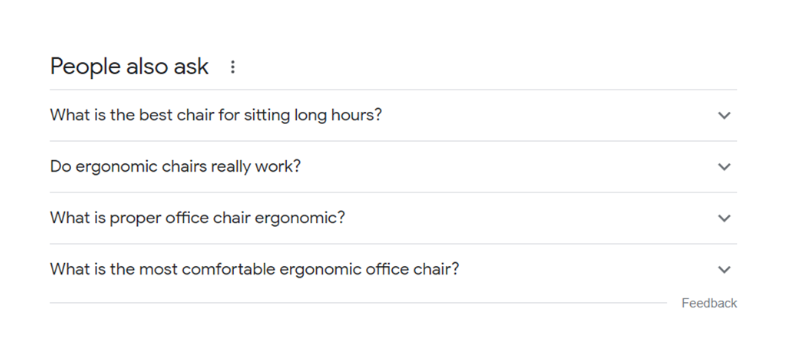 Use Wikipedia
Enter your main keyword in Wikipedia.
Analyze related topics to choose ideas that sound good.
Pick a topic and click on it.
Look at that topic's outline to get other potential ideas.
Use a keyword discovery tool.
WriterZEN is a good choice for topic discovery and keyword research, along with Ahrefs and SEMrush.
Here's what the topic discovery tool looks like: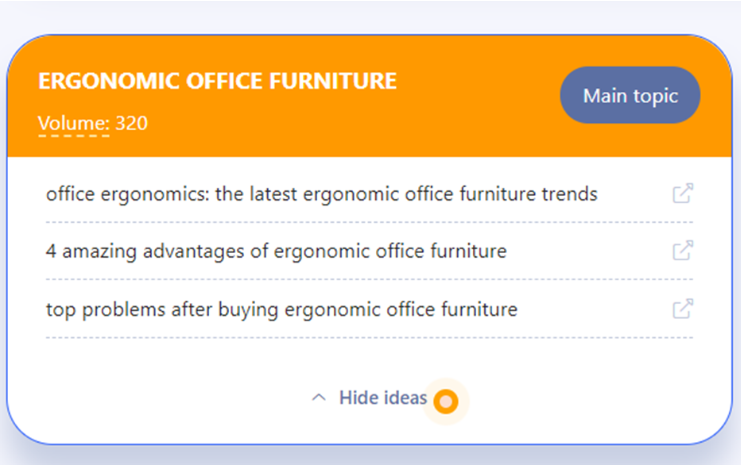 SEMrush and Ahrefs have the added advantage of competitor analysis.
You can uncover your rivals' keyword strategy to reproduce it or find better opportunities for your guest posts.
Here's how:
Go to Content Gap in Ahrefs.
Add your competitors.
Analyze their most successful target keywords.
If your direct competitor is Datadog, running their URL through Ahrefs shows you these keyword opportunities:

Pro tip: Click on these keywords to find out how many backlinks they have. Keywords with hundreds of backlinks are more relevant than others.
That means they make great topics for contributor posts.
Be creative
At some point, you may run out of ideas to post. In this case, you can:
Take one of your already existing guides.
Split it into chapters that you can investigate further.
Pitch these chapters as standalone articles.
Pro tip: You can always use the counterpoint technique.
Let's say you're selling email marketing software.
You've written a successful guest post about "Best Email Marketing Strategies."
Consider pitching a new guest article about "The 5 Worst Email Marketing Strategies."
And so forth.
Guest Blogging Insider Tips
Pitch to more websites than you can handle: If you have five blog ideas, pitch 15 websites – but not at once.
Link to your other guest posts: This tactic allows you to gain more visibility. Besides, you can contact the creator who published your first post to inform them about the new mention. Perhaps they'll return this favor.
Guest post on new websites: When Google ranks your website, the number of backlinks is less important than the number of unique domains linking to you. So, stick to a maximum of two or three guest posts per website.
Ensure your content is optimized: Write SEO-friendly content and use a readability score checker to ensure it's easy to read.
3. Expert Panels and Roundups
Expert panels and roundups both involve gathering insights and opinions from experts.
And hopefully, these experts will link back to your piece.
However:
Expert panels are focused on discussions/ Q&A sessions between experts who share their knowledge and insights on a specific topic. The meeting is typically facilitated by a moderator who asks questions and encourages discussion (such as yourself).
Roundups are a collection of quotes and insights, so they're more curated. These opinions are compiled into a single article, blog post, or other format. Roundups may also include additional analysis to provide context for the expert quotes.
Here's a neat roundup post example: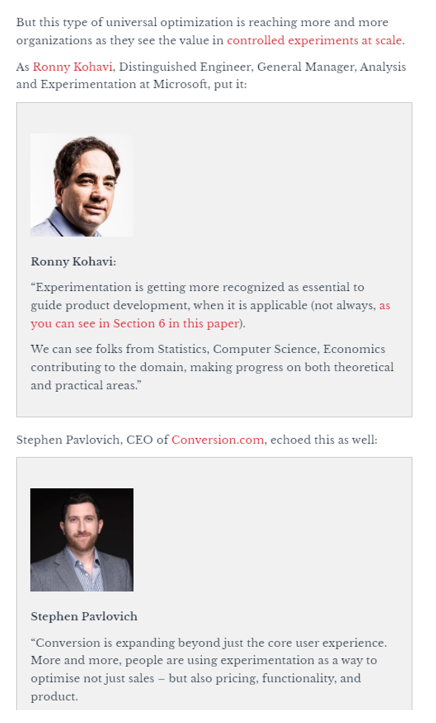 Notice that each collaborator's quote is accompanied by a clear picture and a brief explanation. You can also add links to these people's websites.
Collaborative content is a good strategy for B2B link-building, but it's not perfect.
PROS:
Increased exposure: Getting backlinks from so many experts in your industry will improve your visibility massively. That means you will access new audiences.
Higher content quality: The content is more insightful and engaging, thus making it higher quality and more relevant for your audience.
Increased engagement: Collaborative content can increase engagement with your audience, thus enhancing your website's visibility and ranking in the long run.
CONS:
Time-consuming: Collaborative content can be time-consuming to create and coordinate, especially if your experts don't prioritize this content.
Dependence on others: Collaborative content relies on multiple experts participating. In some cases, these authority figures might not respond to your request.
Potential for conflicts: Live panels can be challenging, especially if your participants have strong contrasting opinions.
How to Use Collaborative Content as a B2B Link-Building Strategy
Find your experts using the methods we discussed above:
Google
Your industry knowledge
Your competitors' backlink profiles
Find your topic.
Research these creators' profiles.
Find common topics these people are passionate about.
Send them short, personalized outreach messages outlining your idea.
Start your email with a hook, such as a personal story or a topic they care deeply about.
Explain the mutually beneficial advantages.
For roundup quotes, ask for a very specific short quote that the person can email back immediately.
Send them the content.
After conducting the expert panel or writing the roundup post, send it to your experts.
You don't have to ask them for a backlink, but you should thank them for participating. Most people will give you that link anyway.
You should also send this content to people who've declined or not answered your invite.
4. The Advice-Asking Technique
One neat way to conduct relationship-based link-building is to ask for advice. The creators you'll reach out to are people – and like all people, they respond well to flattery.
That means they're likelier to accept.
Note: This technique works best for content you haven't created yet.
Choose your potential link partners – you're already an expert in doing that by now.
Make a list of topics that interest them. Use an SEO tool to:

Get ideas from your competitors.
Find trending topics.
Analyze the content posted by your future potential partners.

Choose a few topics these creators are experts in.
Email your shortlisted link partners, asking for their advice or unique perspective. Be brief, and underline that you need just a few words from them.
Write your content using their expert advice.
Email your opinion leader before publishing the article to let them know you'll be live soon.
Follow up with another email after publishing and thank them for their support.
Pro tip: You don't have to ask the person who helped you for a backlink specifically. They will most likely link to your article in the future if they find it a valuable resource.
5. Finding Brand Mentions
Finding brand mentions is very straightforward.
Basically, you will:
Find creators who already mention your brand/ products without linking to them.
Ask them to add links to those mentions.
Here's how you find those mentions:
Use a brand monitoring tool: Several tools allow you to monitor your brand mentions online, such as Google Alerts, Ahrefs, or SEMrush. And they'll notify you when your brand is mentioned online, making it easier to find brand mentions for backlink building. Besides, these tools will also show you valuable metrics like brand sentiment, domain authority, and estimated reach.
Use a search engine: Google search your brand name and see if any websites or blogs have linked to it before.
Check your website analytics: A solid website analytics tool will show you all your website traffic sources. Check your referral sources to sleuth out websites/ blogs that have mentioned your website.
Once these creators link to your website, your link profile will become richer.
On the downside, this method doesn't work if your business is new or not as well known.
6. Broken Link-Building
Broken link-building is also easy compared to other strategies for B2B link-building.
However, you should do your research well to get quality backlinks.
Here are the steps:
Identify potential link partners:
Start by analyzing your competitors' backlink profiles to find opportunities.
Use Google, looking for:

[Target keyword] blogs to follow
Best [target keyword] blogs
Use an SEO tool to find broken links:
There are several tools available that can help you find broken links on other websites, including Ahrefs, Moz, and Screaming Frog.
Let's say you want a mention from Salesforce. Ahrefs shows you broken inbound and outbound links on this website, such as: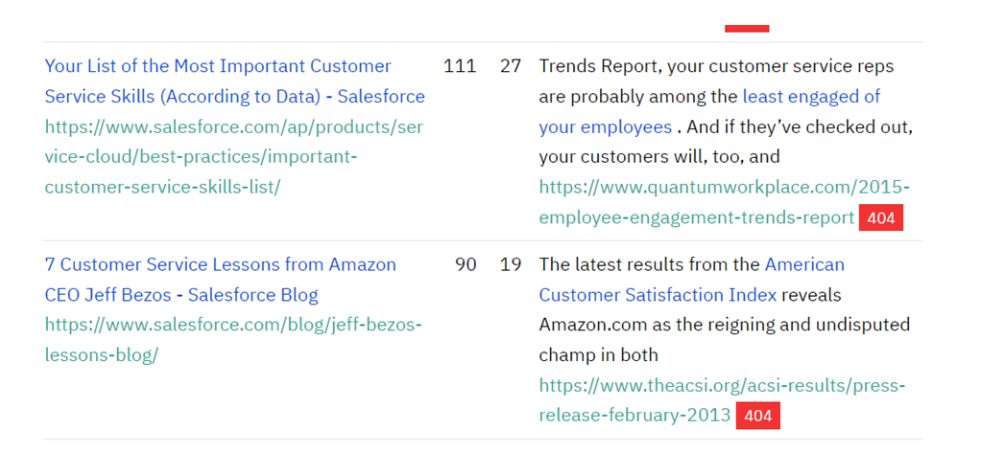 Analyze your opportunities.
Find broken links with relevant topics that you're knowledgeable about.
Look for similar content on your website to make your pitch faster than creating new content from scratch.
Alternatively, you can create a new piece of content that provides more in-depth information or a different perspective.
Contact the website owner.
Explain that you found the broken link while reading their website. Don't mention you used a broken link checker specifically for this.
Offer to replace the broken link with your content, explaining why it will provide value to the website's readers.
If there's no reply, check if they've replaced the broken link with your content.
If they haven't, follow up again in a few days.
7. HARO
HARO (Help a Reporter Out) is another great strategy for B2B link-building because this platform connects journalists with sources for their stories.
The advantages are major:
A quote from a reputable niche industry website would considerably improve your ranking.
You can establish yourself as an expert in your industry. And building your credibility translates into attracting more organic traffic and qualified leads.
HARO is free, so it's a cost-effective way to earn high-quality backlinks.
The drawbacks aren't small either:
There may not be a lot of opportunities for B2B businesses.
The competition is steep, so you must provide valuable and unique insights.
HARO is time-consuming. You must review all requests, filter only the pertinent ones, and wait until the content creator approves you. Afterward, you must wait some more until your quote is published.
That means HARO is volatile and risky, so you can't use it as a standalone technique.
Which B2B Link-Building Strategy Will You Choose?
This guide took you through seven strategies you can implement in your link-building campaign.
You now know all the steps and tools you can use to hone your link-building efforts.
Remember that the initial research plays a determining role. You want to choose your link partners very carefully.
Outreach is also essential. Clear, professional communication can build a lot of bridges.
So, apply these tactics and start getting more backlinks today.